[Forbes] In Search Of A Governance. Who Will Win The Battle For The Internet?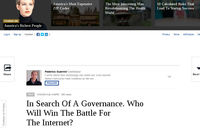 There's a battle going on, and it's raging for the future of the Internet. From net neutrality, to the so-called right to be forgotten, to the multi-stakeholder or multilateral approach to Internet Governance, several bodies and institutions are busy at forging the future of what is probably the greatest human invention of recent times. […]
Revelations about the widespread surveillance of electronic communications made by former NSA's analyst Edward Snowden have pushed some States (like Germany) to promote the idea of building up a European communication network to avoid emails and other data passing through the United States. […]
"There is a risk of balkanization of the Internet, but not for this reason," Philippe Aigrain, co-founder of the website La Quadrature du Net and member of the French Parliamentary Committee on Law and Rights in the Digital Age, tells me. "The real risk, is that to protect authoritarian regimes or for purposes of copyright enforcement, censorship or the protection of some local economic interests, a growing number of states would try to control data flows entering or exiting them." […]
http://www.forbes.com/sites/federicoguerrini/2014/10/24/in-search-of-a-g...