[Computing.co.uk] European Commission put under pressure by Parliament to regulate on net neutrality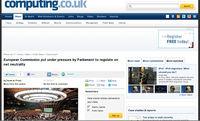 The European Parliament has unanimously adopted a resolution on net neutrality that will place pressure on the European Commission to regulate ISPs to treat internet traffic equally.
The resolution calls on the commission to "guard that ISPs do not block, discriminate against, impair or degrade the ability of any person to use a service to access, use, send, post, receive or offer any content application or service of their choice, irrespective of source or target".
Jeremie Zimmermann, co-founder of La Quadrature du Net, an influential lobby group that framed parts of the text that has been issued to the commission, argues that although the wording of the text is weak, it will place pressure where it is needed.
"What is important is that it adds pressure to Neelie Kroes and her 'wait and see' approach," he added.
http://www.computing.co.uk/ctg/news/2118875/european-commission-pressure...