[WSJ] Sarkozy's Web-Piracy Fight Dealt Blow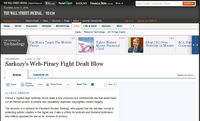 France's highest legal authority struck down a key provision of a controversial law that would have cut off Internet access to people who repeatedly download copyrighted content illegally.
The decision is a setback for President Nicolas Sarkozy, who argued that the law was crucial to protecting artistic creation in the digital era. It was a victory for activists and Socialist politicians who bitterly opposed the law as an invasion of privacy. [...]
Jérémie Zimmerman, an activist who had opposed the law, called the decision "a great victory for citizens" and said that without the provision cutting off Internet access, the law was just a "big tax-sponsored spam machine."