[TheSun] France passes tough new web laws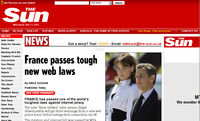 The new "three strikes" rules means illegal downloaders will get three warnings from a new web police force, before having their connection cut off.
The creation and internet bill was passed by MPs yesterday and is due to come into force in the autumn. [...]
Film star Catherine Deneuve has joined the protest against the law, calling it "inapplicable and ignorant".
While a protest group called the Quadrature du Net said artists were wrong to back the law because it cast them as opponents of the young who are their main fans.
http://www.thesun.co.uk/sol/homepage/news/article2427306.ece