[ProItZone] FireFox And Skype Could Be Declared Illegal Products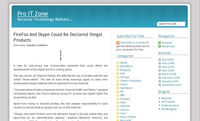 A new EU anti-piracy law incorporates elements that could affect the development of the digital world in coming years.
The law, known as Telecom Packet, the difficults the live of pirates with the law called "three-strike". The law at issue three warnings apply to users who downloaded illegal material before expelled from the Internet.
"The laws allow private companies monitor Internet traffic and filters," explains Christophe Espern, the French defence group for privacy and digital rights The Quadrature du Net.
...
http://www.proitzone.com/2008/07/11/firefox-and-skype-could-be-declared-il=