[P2P Foundation] Anti-P2P amendments pass first reading in European Parliament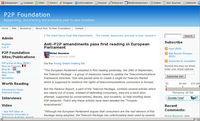 "The European Parliament adopted in first reading yesterday, the 24th of September, the Telecom Package
[...]
"Although the European Parliament argues that consumers are the real winners of this Package being adopted, the Telecom Package has unfortunately been used by several MEPs to introduce a new line of intervention against filesharing on the Internet", commented Marina Barbalata, Co-Spokesperson of the Federation of Young European Greens (FYEG). "This measure is only one step from the criminalisation of young people, the main group of Internet filesharing users. This vote, based on the total misunderstanding of the Web 2.0 by some MEPs, may lead to the loss of basic civil liberties and rights in the virtual world - the right to copy for private use in particular. Such a measure can prevent the success of innovative filesharing softwares for universities, scientists and libraries. I strongly doubt this really is to the benefit of the European consumer.", continued Marina Barbalata.
More information:
- Harbour Report as approved in the EP on September 24th
- Analysis of the dangerous amendments by Digital Rights activists La Quadrature du Net
http://blog.p2pfoundation.net/anti-p2p-amendments-pass-first-reading-in-...