[News.com.au] Internet filtering plan may extend to peer-to-peer traffic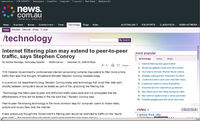 THE Federal Government's controversial internet censorship scheme may extend to filter more online traffic than was first thought, Broadband Minister Stephen Conroy revealed today.
The filtering scheme has made headlines around the world in the The New York Times and British newspapers and was the target of protests held in major cities across the country earlier this month.
"[...]there was never any suggestion that the Australian Government would seek to block political content," Senator Conroy said.
"In this context, claims that the Government's policy is analogous to the approach taken by countries such as Iran, China and Saudi Arabia are not justified."
"All the Government is now seeking to do is to examine how technology can assist in filtering internationally-hosted content."
http://www.news.com.au/technology/story/0,28348,24833959-5014239,00.html