[Betanews] How many strikes will France's HADOPI 'three strikes' law get?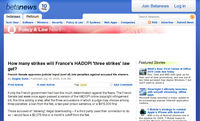 If only the French government had had this much determination against the Nazis. The French Senate last week once again passed a version of the HADOPI online copyright infringement bill, this time adding a step after the three accusations in which a judge may choose among three penalties: a ban from the Net, a two-year prison sentence, or a $415,000 fine. [...]
Gerald Sédrati-Dinet, an analyst for the Francophone Quadrature du Net, said (if we may trust Google's translation services), "The vote of the senators of the majority is simply outrageous: cannot totally dispense with the judiciary, they have validated the ploy of the government reducing the courts to simply rubber stamp. [The decision] is mocking the Constitutional Court, citizens and values-based democracy."
http://www.betanews.com/article/How-many-strikes-will-Frances-HADOPI-thr...