[Zdnet.Co.Uk] European Parliament passes pro-Acta resolution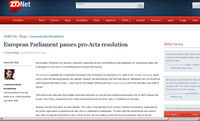 The European Parliament has passed a resolution supporting the Anti-Counterfeiting Trade Agreement, an international treaty that is designed to crack down on counterfeiting and unlawful file-sharing.
"The Commission welcomes the European Parliament resolution on Acta and the confidence expressed so far by MEPs towards the accord," John Clancy, spokesman for EU trade commissioner Karel De Gucht, said in a statement on Thursday.
However, the anti-Acta lobby was less pleased. "This vote is a terrible blow to EU citizens," Jérémie Zimmermann, spokesperson for citizen organisation La Quadrature du Net, said in a statement on Wednesday. [...]
http://www.zdnet.co.uk/blogs/communication-breakdown-10000030/european-p...