[Wyborcza.Pl] Debata ws. ACTA: Premier kontra internauci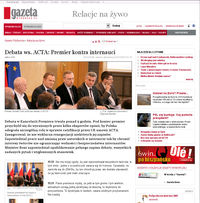 Peur de la démocratie ? Monsieur, vous avez peur d'un référendum ! - Débat sur l'ACTA
Le premier ministre a dit que le gouvernement polonais ne retirerait pas sa signature, à la suite de la demande d'un groupe. […] Selon lui, l'ACTA vise à défendre le monde de la culture occidentale contre le piratage.
Concernant la demande de le référendum, il a annoncé qu'il ne souhaitait pas tourner la question en « Souhaitez-vous Monsieur / Madame la ratification par la Pologne de l'ACTA? » mais plutôt « Êtes-vous pour la poursuite des crimes d'Internet ? » et il va gagner ce référendum. Il a également dit que nous devenions fou dans notre pays, et qu'aucun autre pays n'était agité de telles protestations !
Le débat sur le bureau du Premier ministre a pris plus de 9 heures.
Afraid of democracy ? Sir, you are afraid of a referendum ! - Debate on ACTA
The Prime Minister said that the Polish government would not withdraw its signature, following the request of a group. [...] He said ACTA aims to defend the world of western culture from piracy.
Regarding the application of a referendum, he announced that he would not turn the question into "Are you Sir / Madam for ratification by Poland of ACTA?" But rather as "Are you for the prosecution of Internet crimes?" And he said he will win this referendum. He also said we were becoming mad in our country, and that no other country was agitated with such protests!
The debate in the Prime Minister's Office took over 9 hours.
http://wyborcza.pl/1,107448,11095488,Debata_ws__ACTA__Premier_kontra_int...