[WorldCrunch] European Academics Launch Petition To Protect Personal Data From "Huge Lobby"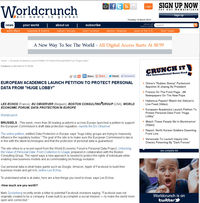 This week, more than 90 leading academics across Europe launched a petition to support the European Commission's draft data protection regulation, reports the EU Observer.
The online petition, entitled Data Protection in Europe, says "huge lobby groups are trying to massively influence the regulatory bodies." The goal of the site is to make sure the European Commission's law is in line with the latest technologies and that the protection of personal data is guaranteed. [...]
http://www.worldcrunch.com/tech-science/european-academics-launch-petiti...