[WashingtonPost] NSA tracking cellphone locations worldwide, Snowden documents show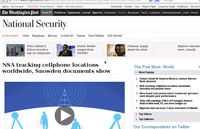 "The National Security Agency is gathering nearly 5 billion records a day on the whereabouts of cellphones around the world, according to top-secret documents and interviews with U.S. intelligence officials, enabling the agency to track the movements of individuals — and map their relationships — in ways that would have been previously unimaginable."
"One senior collection manager, speaking on the condition of anonymity but with permission from the NSA, said "we are getting vast volumes" of location data from around the world by tapping into the cables that connect mobile networks globally and that serve U.S. cellphones as well as foreign ones. "
"U.S. officials said the programs that collect and analyze location data are lawful and intended strictly to develop intelligence about foreign targets."
http://www.washingtonpost.com/world/national-security/nsa-tracking-cellp...