[TorrentFreak] Canadian Songwriters Want to Legalize File-Sharing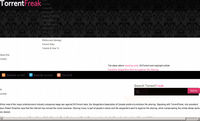 While most of the major entertainment industry companies wage war against BitTorrent sites, the Songwriters Association of Canada prefers to embrace file-sharing. Speaking with TorrentFreak, vice president Jean-Robert Bisaillon says that the Internet has revived the music business. Sharing music is part of people's nature and the songwriters want to legalize file-sharing, while compensating the artists whose works are shared.
"The big labels will try to control the market as long as they can and as long as they think the market will generate revenue even if the revenue is the result of legal action. [...]
http://torrentfreak.com/canadian-songwriters-want-to-legalize-file-shari...