[Times Online] Music pirates will not be disconnected from the internet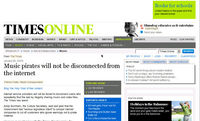 Internet service providers will not be forced to disconnect users who repeatedly flout the law by illegally sharing music and video files, The Times has learnt.
Andy Burnham, the Culture Secretary, said last year that the Government had "serious legislative intent" to compel internet companies to cut off customers who ignore warnings not to pirate material.
http://entertainment.timesonline.co.uk/tol/arts_and_entertainment/music/...