[TheSundayTimes] Privacy law MEP is voice of tech giants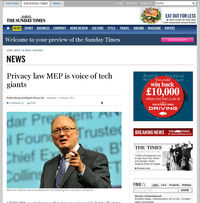 A TORY MEP accused of trying to dilute data privacy laws on behalf of the IT industry has failed to declare his role in an organisation that helps IT companies to influence legislation.
Malcolm Harbour is suspected by privacy campaigners of "cutting and pasting" demands from documents supplied by lobbyists representing firms including Amazon, eBay, IBM, Microsoft and BlackBerry into proposed new European legislation. The laws are intended to protect the privacy of internet users, including online shoppers. [...]
http://www.thesundaytimes.co.uk/sto/news/uk_news/National/article1215732...