[TheRegister] VeriSign demands website takedown powers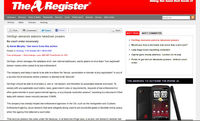 VeriSign, which manages the database of all .com internet addresses, wants powers to shut down "non-legitimate" domain names when asked to by law enforcement.
The company said today it wants to be able to enforce the "denial, cancellation or transfer of any registration" in any of a laundry list of scenarios where a domain is deemed to be "abusive".
Senior ICE agents are on record saying that they believe all .com addresses fall under US jurisdiction.
It's not yet clear how VeriSign would handle a request to suspend a .com domain that was hosting content legal in the US and Europe but illegal in, for example, Saudi Arabia or Uganda.
http://www.theregister.co.uk/2011/10/11/verisign_asks_for_web_takedown_p...