[TheRegister] Ex-EU digi supremo Steelie Neelie's net neutrality bid in tatters?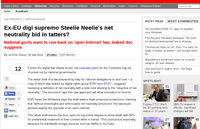 Former EU digital tzar Neelie Kroes' net neutrality plans for the Continent may be chucked out by national governments. […]
EDRi head Joe McNamee says the draft waters down proposed protections, claiming that "without meaningful and enforceable net neutrality provisions" the law would achieve exactly the opposite of an open internet. […]
Advocacy group La Quadrature du Net (QdN) described the revised draft as a "betrayal" and a "slap in the face" to everyone who fought to preserve the open internet. "EU governments are giving in to the shameless lobbying of dominant telecom operators," said Félix Tréguer, co-founder of QdN. […]
http://www.theregister.co.uk/2014/11/25/steelie_neelies_net_neutrality_p...