[TheInquirer] MEPs reject Gallo report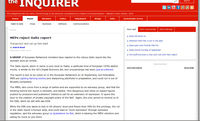 The report is due to be voted on in the European Parliament on 22 September, but fortunately MEPs are lighting flaming torches and sharpening pitchforks in preparation, and could run it out of Brussels completely.
While the DEA only wants to kick in UK citizens' doors and fleece their ISPs for the privilege, the rot in the Gallo report is Europe wide, and could lead to 'more repression' through excessive legislation, said the advocacy group La Quadrature du Net, which is backing the MEPs' rebellion and calling for more to join them.
An alternative approach has been suggested by detractors, which aims to be more user friendly, less-draconian, more relevant, less offensive, fairer, and possibly less appreciated by media firms.
http://www.theinquirer.net/inquirer/news/1733341/meps-reject-gallo-report