[TheInquirer] European net neutrality discussions close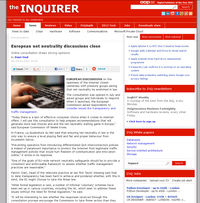 European discussions on the openness of the internet closed yesterday with pressure groups asking that net neutrality be enshrined in law. [...]
In France, La Quadrature du Net said that ensuring net neutrality in law is the only way to ensure a level playing field and fair and proper behaviour from incumbent telcos.
"Preventing operators from introducing differentiated QoS interconnection policies is indeed of paramount importance to protect the Internet from legitimate traffic management policies that would hurt freedom of communication and innovation online," it wrote in its response. [...]
http://www.theinquirer.net/inquirer/news/2217537/european-net-neutrality...