[TheGlobeAndMail] Report: Germany to reject EU-Canada trade deal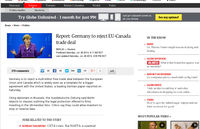 Germany is to reject a multi-billion free trade deal between the European Union and Canada which is widely seen as a template for a bigger agreement with the United States, a leading German paper reported on Saturday.
Citing diplomats in Brussels, the Sueddeutsche Zeitung said Berlin objects to clauses outlining the legal protection offered to firms investing in the 28-member bloc. Critics say they could allow investors to stop or reverse laws. [...]
The German government could not sign the agreement with Canada "as it has been negotiated now", reported the paper quoting German diplomats in Brussels. [...]
http://www.theglobeandmail.com/news/politics/report-germany-to-reject-eu...