[TechDirt] EU Re-Think Following Discovery Of Major Flaw In CETA Shows The Benefits Of Transparency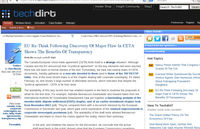 The Canada-European Union trade agreement (CETA) finds itself in a strange situation. Although Canada and the EU announced that "a political agreement" on the key elements had been reached, there has still been no formal release of the text. Fortunately, we have had several leaks of CETA documents, handily gathered on a new site devoted to them (and to those of the TAFTA/TTIP talks). One of the most recent leaks is of the chapter dealing with corporate sovereignty. It's dated February 14, and shows a large number of alternative versions, which indicates that despite the "political agreement", CETA is far from done. [...]
It's not clear whether the European Commission woke up to this huge loophole as a result of the International Institute for Sustainable Development analysis, although this seems likely given the timing. But the key point is that the incident raises the larger question:
"What other mistakes have the Commission and Canadian government made in CETA that compromise the ability of governments to make environmental, public health and consumer protection policies without worrying they will be sued in private arbitration, behind closed doors?" asks Stuart Trew, trade campaigner with the Council of Canadians. [...]
https://www.techdirt.com/articles/20140317/10372026597/eu-re-think-follo...