[TechCrunch] Twitter 'Considering Legal Options To Defend First Amendment Rights' As Data Requests Rise 22%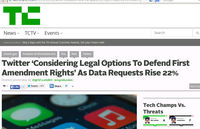 Twitter today has published its latest Transparency Report, a list of information and takedown requests, as well as copyright notices. The report breaks out for the first time how Twitter is faring on a country-by-country basis — useful considering that these days some 75% of its users are outside the U.S. — and indicates that information requests are up by 66% in the last two years.
But Twitter is also using the release to drive home a point it's been making for some time now: current rules do not allow Twitter to be as transparent as it would like to be.
[...] when it comes to removal requests, France jumps to the very top by a large stretch. While most other countries have seen none or just one or two removal requests, France has seen 306 removal requests from government agencies and the police; three from court orders; covering 146 accounts (although none subsequently withheld) and 133 specific Tweets withheld. A large part of the story in France centers around groups that have been able to obtain Tweet and account orders by way of current French discrimination laws.
http://techcrunch.com/2014/02/06/twitter-releases-new-transparency-repor...