[Reuters] EU regulator warns against Internet restrictions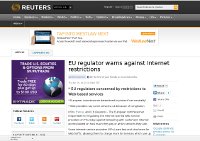 The European commissioner responsible for regulating the Internet warned Web service providers on Thursday against tampering with customers' Internet access based on how much they pay or which services they use.
In an effort to preserve what they call "net neutrality", European Union governments have considered enforcing laws preventing providers from offering differentiated tiers of access, but so far only the Netherlands has succeeded. [...]
Internet activists who say they are frustrated by the Commission's slow pace of digital reform have reported 162 cases of blocked or slowed services since 2011 and have called on the EU's executive to take sterner action against ISPs.
"We have strong evidence, including on our reporting platform RespectMyNet.eu, that infractions are widespread," said Jeremie Zimmermann of La Quadrature du Net, an NGO. [...]
http://www.reuters.com/article/2012/04/19/eu-internet-idUSL6E8FIFGS20120419