[PCWorld] Facebook must comply with German data protection law, court rules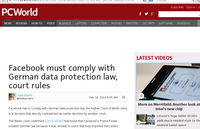 [...] The Berlin court [...] found that Facebook's Friend Finder violated German law because it was unclear to users that they imported their entire address book into the social network when using it.
[...] the Higher Court of Berlin [...] contended that Facebook's data processing is actually handled in the U.S. [...] and not by its Irish subsidiary [...] [otherwise] German data protection law would probably not have been applicable, because Facebook Ireland would have been responsible for handling user data in the E.U. [...].
But because Facebook U.S. is located outside of the E.U., German data protection laws can apply, she added.
As the Higher Court of Berlin and Administrative Court of Appeals of the State of Schleswig-Holstein are equals, it is difficult to say which decision will prevail [...].
http://www.pcworld.com/article/2098720/facebook-must-comply-with-german-...