[Pcworld] EU's Net Neutrality Battle Rages on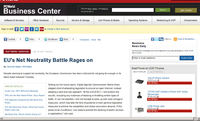 Despite claiming to support net neutrality, the European Commission has been criticized for not going far enough in its latest report released Tuesday. [...]
However, advocacy group, La Quadrature du Net, which promotes the rights and freedoms of citizens on the Internet, described the Commission's report as "extremely disappointing" and said Kroes was "hiding behind false liberal arguments that could undermine the freedom of communication and innovation in the digital environment."
"This report fails to offer a policy protecting the free, open and neutral Internet," said Felix Tréguer, records management officer at Quadrature du Net.
http://www.pcworld.com/businesscenter/article/225559/eus_net_neutrality_...