[NYTimes] France Broadens Its Surveillance Power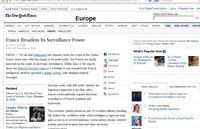 For all their indignation last summer, when the scope of the United States' mass data collection began to be made public, the French are hardly innocents in the realm of electronic surveillance. Within days of the reports about the National Security Agency's activities, it was revealed that French intelligence services operated a similar system, with similarly minimal oversight.
And last week, with little public debate, the legislature approved a law that critics feared would markedly expand electronic surveillance of French residents and businesses. […]
http://www.nytimes.com/2013/12/15/world/europe/france-broadens-its-surve...