[NYTimes] Disagreements on Transparency Fail to Stop ACTA Treaty Leak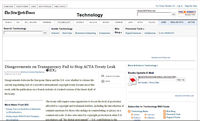 Disagreements between the European Union and the U.S. over whether to release the current negotiating text of a secretive international copyright treaty became moot this week, with the publication on a French website of a leaked version of the latest draft of the treaty.
The leaked document, dated July 1, is labeled as an "informal predecisional deliberative draft" of the Anti-Counterfeiting Trade Agreement (ACTA) reflecting changes made during negotiations held in Lucerne, Switzerland, late last month, according to its title page.
French advocacy group La Quadrature du Net posted the document, a collection of scanned images in PDF format, to its website on Wednesday, and immediately began transcribing it into a searchable text format in a Wiki.
http://www.nytimes.com/external/idg/2010/07/16/16idg-disagreements-on-tr...