[Numerama] Affaire Techland (Call of Juarez) : la FAQ de Ratiatum [MAJ 4]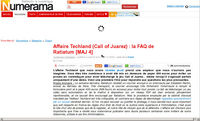 L'affaire Techland que nous avons révélée jeudi prend une ampleur que nous n'aurions pas imaginée. Vous êtes très nombreux à avoir été mis en demeure de payer 400 euros pour éviter un procès en contrefaçon pour avoir téléchargé le jeu Call of Juarez... même lorsqu'il s'agissait parfois uniquement d'une démo. Voici une première FAQ pour répondre aux questions les plus pressantes.
http://www.numerama.com/magazine/4357-Affaire-Techland-Call-of-Juarez-la...