[MondeDiplomatique] The corporation invasion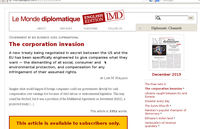 A long and informative article that goes into serious cricisim against the Transatlantic Trade and Investment Partnership (TTIP) negotiations. With regard to data privacy, the article states:
"The offensive is equally vigorous over personal privacy. The Digital Trade Coalition, a group of high-tech and Internet companies, has encouraged TTIP/TAFTA negotiators to ensure that EU data privacy policies do not encumber the flow of personal data into the US. After the recent revelations of the US National Security Agency's (NSA) indiscriminate data spying programmes, the tech corporations' statement that "the current judgment of the EU that the US does not provide 'adequate' privacy protection is not reasonable" seems particularly outrageous. The US Council for International Business, which includes companies such as Verizon that have handed vast quantities of personal data over to the NSA, has stated: "The agreement should seek to circumscribe exceptions, such as security and privacy, to ensure they are not used as disguised barriers to trade.""