[Maltastar] ACTA protest mirrors people's feelings - Mugliett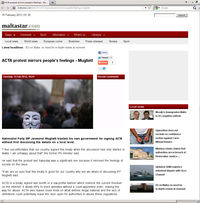 Nationalist Party MP Jesmond Mugliett blasted his own government for signing ACTA without first discussing the details on a local level.
"I feel uncomfortable that our country signed this treaty when the discussion had only started in Malta. I am unhappy about that" the former PN minister said. [...]
"If we are so sure that this treaty is good for our country why are we afraid of discussing it?" Mugliett said. [...]
http://maltastar.com/dart/20120214-acta-protest-mirrors-people-feelings-...