[ITNews] European Parliament votes in favour of internet freedom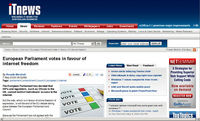 The European Parliament has decided that ISPs and regulators, such as Ofcom in the UK, cannot restrict individuals' access to the internet. [...]
Jérémie Zimmermann, co-founder of La Quadrature du Net, described it as a "victory".
"A formidable campaign from the citizens put the issues of freedoms on the internet at the center of the debates of the Telecoms Package," he said.
"The massive re-adoption of amendment 138/46 rather than the softer compromise negotiated by rapporteur Trautmann with the Council is an even stronger statement," he concluded.
http://www.itnews.com.au/News/102634,european-parliament-votes-in-favour...