[IrishTimes] Data Commissioner decision challenged by Facebook user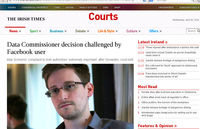 A complaint to the Irish Data Protection Commissioner regarding the transfer of Facebook user data from Europe to the US National Security Agency (NSA) was "extremely important" in light of the Edward Snowden allegations, the High Court was told today.
The court heard arguments that Commissioner Billy Hawkes wrongly refused to investigate a complaint that an Irish arm of social network giant Facebook could not permit the mass transfer of personal data to US intelligence services operating the Prism surveillance programme.
The Data Protection Commissioner was not entitled to "turn a blind eye" to the allegations by the former NSA contractor Snowden , the court was told by Paul O'Shea BL, counsel for Austrian law student Max Schrems. [...]
http://www.irishtimes.com/news/crime-and-law/courts/data-commissioner-de...