[IPtegrity] Is The EU Council Trying To Delete Net Neutrality?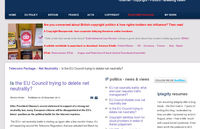 After President Obama's recent statement in support of a strong net neutrality law, many European citizens will be disappointed at the EU's latest position as the political battle for the Internet reprises. […]
It is now moving into a new stage which means it has to go to the Council of Ministers - the governments of the 28 countries. The Council is examining it for the first time, and needs to come to its own position. That's what this is all about. […]
As an alternative to the European Parliament's provisions, the Council is promoting what it calls a 'principles-based approach'. But when you read closely, this is not about a principle of net neutrality, it is about principles for traffic management – in other words, for the exact opposite:
"Clear principles for traffic management in general, as well as the obligation to maintain sufficient network capacity for the internet access service regardless of other services also delivered over the same access." […]
There is more analysis from European Digital Rights (EDRi) with comment on the regulatory position, and La Quadrature du Net which calls it a 'betrayal' of EU citizens.
http://www.iptegrity.com/index.php/telecoms-package/net-neutrality/974-i...