[IntellectualPropertyWatch] ACTA: Will It Ever Become A Valid International Treaty?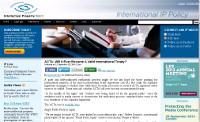 A quiet and little-publicised ratification process might be the last hope for those pushing for international adoption of the Anti-Counterfeiting Trade Agreement (ACTA). But while the Japanese legislature managed to finalise their ratification recently, processes in several ACTA signatory states seem to be stalled. Some may ask whether ACTA will ever become an international treaty. [...]
Can ACTA finally be ratified after all the "noise" around the agreement has died down and the opponents' attention has shifted? Perhaps a quiet approval like in Japan is still possible, otherwise negotiators will just have to re-start as the TPP or CETA negotiators somehow already did.
http://www.ip-watch.org/2012/09/13/acta-will-it-ever-become-a-valid-inte...