[IBTimes] UK's Cyber Snoop Reforms Opens Door to MI5 and MI6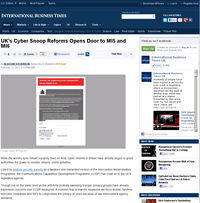 While the world's eyes remain squarely fixed on Acta, cyber reforms in Britain have already begun to grant authorities the power to monitor citizens' online activities. [...]
Though not on the same level as the anti-Acta protests sweeping Europe, privacy groups have already expressed concerns over CCDP measures. A common fear is that the measures will force mobile, landline telecoms companies and ISPs to compromise the privacy of users because of law enforcement agency demands.
According to a report in the Daily Telegraph the CCDP will require the companies to store customers' data for a full year - giving agencies such as GCHQ, MI5 and MI6 access to information such as customers' email addresses, IP addresses and phone numbers. [...]
Urquhart went on to question the policy suggesting that each ISP and telecoms company's databases would attract the attention of cyber criminals. The huge financial cost of maintaining the systems was another primary concern.
http://www.ibtimes.co.uk/articles/302891/20120222/acta-ccdp-communicatio...