[Guardian.co.uk] Tory MP Louise Mensch backs social network blackouts during civil unrest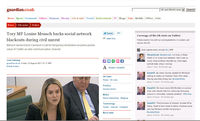 Louise Mensch, the Conservative MP and one of parliament's more active Twitter users, has backed David Cameron's call for social networking services to be shut down temporarily during civil disorder.
On her Twitter feed, she added: "Northamptonshire police advise me that much of their time and resources were wasted answering false alarms due to soc media rumours. At the time, tweeted people should think hard before putting the phrase 'rumours of' into a tweet. Nonsense rumours about W'boro [Wellingborough] = 999 calls."
But there are questions about whether disconnecting people is necessary and whether or not it is technically feasible.
http://www.guardian.co.uk/uk/2011/aug/12/louise-mensch-social-network-bl...