[Guardian] Biggest four UK ISPs switching to 'opt-in' system for pornography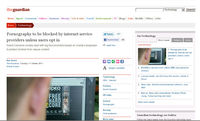 Subscribers to four of the UK's biggest internet service providers will have to "opt in" if they want to view sexually explicit websites, as part of government-sponsored curbs on online pornography.
The prime minister is expected to announce other moves in line with the review, such as restrictions on aggressive advertising campaigns and certain types of images on billboards.
Cameron gave strong backing in June to the Bailey report proposals after he commissioned the six-month review. However, Cameron did not commit his government to legislation.
http://www.guardian.co.uk/society/2011/oct/11/pornography-internet-servi...