[GlobalEdmonton] EU, facing opposition, suspends ratification of copyright treaty, refers to Court of Justice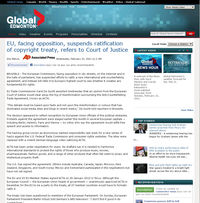 The European Commission, facing opposition in city streets, on the Internet and in the halls of parliament, has suspended efforts to ratify a new international anti-counterfeiting agreement, and instead will refer it to Europe's highest court to see whether it violates any fundamental EU rights. [...]
[...] Opponents fear ACTA would lead to censorship and a loss of privacy on the Internet. And the plan to gain court approval of the agreement has left at least some of them unimpressed.
"No legal debate can fix ACTA or give it a legitimacy that by design it cannot have," said Jeremie Zimmermann, co-founder of the Internet advocacy group La Quadrature du Net.
http://www.globaltvedmonton.com/world/eu+facing+opposition+suspends+rati...