[Forbes] Bulgaria Withdraws From ACTA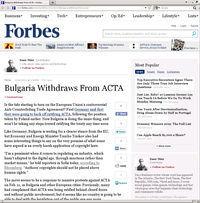 Is the tide starting to turn on the European Union's controversial Anti-Counterfeiting Trade Agreement? First Germany said that they were going to back off ratifying ACTA, following the position taken by Poland earlier. Now Bulgaria is doing the same thing, and won't be taking any steps toward ratifying the treaty any time soon. [...]
Like Germany, Bulgaria is waiting for a clearer stance from the EU, but Economy and Energy Minister Traicho Traikov also had some interesting things to say on the very premise of what some have argued is an overly harsh application of copyright laws.
"I'm a pessimist when it comes to regulating an industry, which hasn't adapted to the digital age, through sanctions rather than market means," he told reporters in Sofia today, according to Bloomberg. "Authors' copyrights should not be placed above human rights." [...]
http://www.forbes.com/sites/davidthier/2012/02/14/bulgaria-withdraws-fro...