[EWeekEurope] European Court Says Gov'ts Can't Force ISPs To Snoop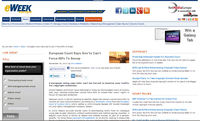 Online freedom activitists have welcomed a ruling by the European Court of Justice, that says national authorities cannot force ISPs to violate their users' rights in favour of copyright protection.
The ECJ agreed and found that using such filtering systems indiscriminately would infringe on people's rights to conduct business, their right to protection of personal data and to receive or impart information.
"The ruling stresses once again that instead of keeping on pushing for more repression EU policy makers should work towards much needed reform of copyright that would protect citizens' freedoms. Rejecting ACTA and other extremist measures imposed in the name of copyright would be a first step," said Jérémie Zimmermann, co-founder and spokesperson of citizen advocacy group La Quadrature du Net.
http://www.eweekeurope.co.uk/news/isps-cannot-be-forced-to-monitor-usage...