[EurActiv.com] Activist: Telecoms package innovation-hostile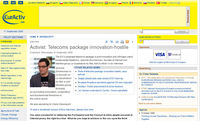 The EU's proposed telecoms package is anti-innovation and infringes users' fundamental freedoms, Jeremie Zimmerman, founder of Internet civil liberties group La Quadrature du Net, told EurActiv in an interview. Jeremie Zimmerman is co-founder of La Quadrature du Net, a civil liberties group focusing on promoting innovation, competition and fundamental freedoms in the online world. He was speaking to Claire Davenport. [...]
So will you be satisfied with the telecoms package if people accused of Internet piracy receive the right to a trial?
Not really. The vote for the third hearing is a very strong signal sent by the European Parliament that the fundamental freedoms and rights of citizens do matter, albeit ahead of an election. We hope that this signal will be confirmed in the third reading. But the problem is there are other elements in the telecoms package that raise enormous questions about competition, innovation and fundamental rights of freedom. Specifically, controlling the use of the Internet via network operators is very harmful to our fundamental freedom of expression and comparable to what is going on in Iran, for example, where a law forbids citizens from accessing certain sites. [...]
So what is Internet piracy according to La Quadrature?
Piracy is just a buzzword, an intimidation technique to discourage people from sharing. Copyright was an industry regulation to protect authors from editors and producers and to allow producers to have a return on their investments on infrastructure to make copies of works, like for example a printing press. Copyright was a commercial regulation between the industry and actors and was never meant to be turned against the public which is wrong. What the public does in the private sphere is by definition in the private sphere.
http://www.euractiv.com/en/infosociety/activist-telecoms-package-innovat...