[Euractiv] Lawmakers call for halt to ACTA deal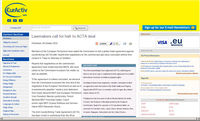 Members of the European Parliament have asked the Commission to halt a global trade agreement against counterfeiting (ACTA) after reports that negotiations on the controversial pact were concluded without their consent in Tokyo on Saturday (2 October).
"The aim of this premature announcement of a deal is of course to install the impression that ACTA is a done deal, that parliaments have no other choice than to accept it without any possibility to modify it," according to Internet freedom NGO La Quadrature du Net.
The negotiations were "almost across the finish line," according to US Trade Representative Ron Kirk, speaking on Saturday.
http://www.euractiv.com/en/infosociety/lawmakers-call-halt-acta-deal-new...