[DW-World.de] France maintains long tradition of data protection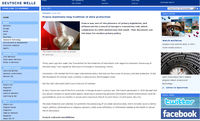 France was one of the pioneers of privacy legislation, and influenced the Council of Europe's Convention 108, which celebrates its 30th anniversary this week. That document set the base for modern privacy policy.
In 1974 [...] a draft security law known as Project Safari called for the government to use social security numbers to interconnect all personal administrative data. "It was very, very bad political move to hunt the citizen through their data," said Jeremie Zimmerman, a founder of internet advocacy group La Quadrature du Net.
The CNIL (Commission nationale de l'informatique et des libertes), the French data protection agency, was created as part of the 1978 law. The agency now handles some 5,000 complaints and information requests a year.