[CSOOnline] EU Parliament makes more than 900 changes to data privacy law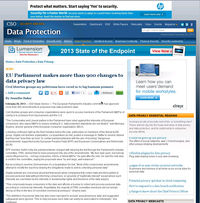 IDG News Service — The European Parliament's industry committee has approved more than 900 amendments to proposed new data protection laws. [...]
But according to Jeremie Zimmermann of La Quadrature Du Net, "Most of the compromise amendments attempt to modify the report by relaxing the obligations made to actors collecting personal data."
Digital activists are concerned about text that would allow companies that control data and third parties to process personal data without informing consumers, on grounds of "legitimate interest" except where such interests are overridden by the interests or fundamental rights and freedoms of the data subject. [...]
http://www.csoonline.com/article/729165/eu-parliament-makes-more-than-90...