[Computing.co.uk] MEPs signal their support for ACTA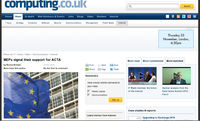 The European Parliament today passed a resolution welcoming the almost final text of the Anti-Counterfeiting Trade Agreement (ACTA).
The MEPs' vote, which effectively gives the European Commission the green light to agree the final ACTA wording, was described today as a "call to arms for those interested in maintaining freedom of speech and internet-led innovation" by a member of civil liberties advocacy group La Quadrature du Net.
A member of La Quadrature du Net, Jérémie Zimmermann, said: "This resolution is a political statement from the parliament, and is very worrying for advocates of civil liberties; MEPs needs to be made aware of how this legislation would limit innovation and put corporations above the rights of ordinary citizens [before the agreement is passed].
"Now is the time to lobby your MEPs," he added.
http://www.computing.co.uk/ctg/news/1900548/meps-signal-support-acta