[ComputerworldUK] TTIP Update XIII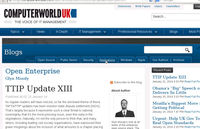 The EU Trade Commissioner has "announced his decision to consult the public on the investment provisions of a future EU-US trade deal, known as the Transatlantic Trade and Investment Partnership (TTIP). The decision follows unprecedented public interest in the talks."
But, Glyn Moody writes, the Commission "is still assuming that the question is how to make ISDS [investor-state dispute settlement] better, rather than asking whether we need it."
He argues that, "one of the reasons that the European Commission likes to claim we "must" have ISDS in TAFTA/TTIP is that it will set a precedent for future agreements with China and elsewhere.
http://blogs.computerworlduk.com/open-enterprise/2014/01/ttip-update-xii...