[ComputerworldUK] Please Contact MEPs: Big Votes in European Parliament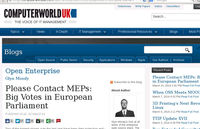 Two of the biggest stories over the last year have been data protection and - of course - Edward Snowden's revelations of massive spying by the NSA and GCHQ on all online activity in Europe (and elsewhere). As it happens, both of these important issues are coming to a head this week: after a preliminary debate tomorrow, on Wednesday the European Parliament will vote on both (draft agenda.) That means we still have time to drop them a friendly email today asking them to support strong privacy and civil liberties in Europe.
[...] another important new document that you might like to read before contacting your MEPs is this testimony [.pdf] from Edward Snowden to the European Parliament's Civil Liberties, Justice and Home Affairs (LIBE) committee.
[...] the NSA has been pressuring European governments to change their laws to make them more convenient for surveillance purposes - which means less protection for European rights. The NSA also plays off EU nations against each other [...]
http://blogs.computerworlduk.com/open-enterprise/2014/03/big-votes-in-eu...