[ComputerWeekly] Medical database could undermine privacy, says NHS risk assessment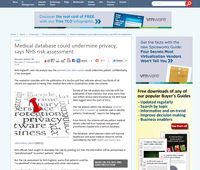 NHS England's own risk analysis says the planned Care.data system could undermine patient confidentiality, it has emerged.
The revelation coincides with the publication of a YouGov poll that indicates almost two-thirds of UK citizens are opposed to having their medical data sold to corporations under the scheme. [...]
According to the risk report, the scheme could damage public confidence in the NHS and result in patients withholding information from doctors. In January privacy groups raised concerns about the planned database and sale of data to health researchers and insurance companies. They warned there will be no way for patients to work out who has accessed their medical records or how they are using the information. [...]
To avoid fines worth hundreds of thousands of pounds in the future, McIntosh said the NHS needs to ensure all the information in its new database is encrypted, and patient confidentiality is preserved.
http://www.computerweekly.com/news/2240214488/Medical-database-could-und...