[Cnet] DHS abruptly abandons copyright seizure of hip-hop blog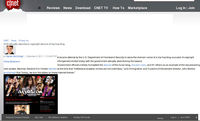 A bizarre attempt by the U.S. Department of Homeland Security to seize the domain name of a hip-hop blog accused of copyright infringement ended today with the government abruptly abandoning the lawsuit.
What's unusual here is that normally U.S. law strongly discourages efforts to censor Web sites before a full trial can be held. That's called "prior restraint," and the U.S. Supreme Court ruled in the Pentagon Papers case that even top-secret national defense information did not qualify for temporary, pre-trial censorship.
Making the case even more unusual, Bridges said, is that routine procedural documents were all kept under seal. "Why did the government feel the need to keep secret the fact of its repeated extensions of time to file the forfeiture proceeding?" he asked.
http://news.cnet.com/8301-31921_3-57339569-281/dhs-abruptly-abandons-cop...