[ArsTechnica] New Snowden leaks reveal "collect it all" surveillance was born in the UK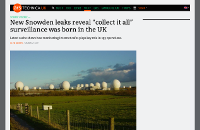 The radical shift in the NSA's surveillance strategy to "collect it all" began in the UK, according to new revelations in the latest cache of documents leaked by Edward Snowden.
During a June 2008 visit to the Menwith Hill monitoring station in North Yorkshire, then-director of the NSA Keith Alexander asked: "Why can't we collect all the signals, all the time?" He went on: "Sounds like a good summer homework project for Menwith!" [...]
VSAT surveillance was used to direct military operations: one document provided by Snowden speaks of "30 enemy killed" in Afghanistan as a result of signals intelligence passed to those in the field. Another leak speaks of Menwith Hill Station analysts finding "a new way to geolocate targets who are active at Internet cafes in Yemen." [...]
As the Intercept points out, "The description of GHOSTWOLF ties Menwith Hill to lethal operations in Yemen, providing the first documentary evidence that directly implicates the UK in covert actions in the country." That's problematic, because Yemen is not a war zone, so those targeted by drones there would not be considered "combatants" and anyone involved in their killing would not be entitled to "combatant immunity." [...]
http://arstechnica.co.uk/tech-policy/2016/09/snowden-leaks-collect-all-s...